Give your baby a new level of hygiene with the ShowerBaby®'s Euro-designed shower wand. This uniquely designed shower wand offers a refreshing and gentle shower your baby will really enjoy. The shower wand has on/off control and is the perfect size for cleaning babies when changing diapers or giving baths. The shower wand is also convenient during the winter months, allowing you to clean a baby's bottom with warm water instead of cold disposable wipes. Plus, showering a child's bottom with fresh running water, as opposed to wiping or scrubbing, is the most gentle and natural way of keeping a baby's sensitive skin clean and healthy.
Family Use
Parents and family members can also use the shower wand as a personal hand held Bidét, especially Mom when she returns home from having a baby.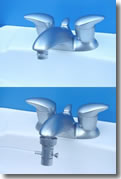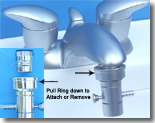 Easy Faucet Hookup
No Plumber Required
Easily connects to faucets by replacing existing aerator with the stylishly designed combination aerator / snap-on adapter (click pictures on the left to see details). The diverter valve also allows you to use the sink or hand shower with the simple pull of the button located on the side of the valve.
Easy Hose Connection
Quick-connector easily snaps on faucet adapter by pulling down on the quick-connect ring and sliding over snap-on adapter.
Super Flexible Hose
Includes 10 ft. super flexible, mini-size, 1/4'' diameter adjustable length clear hose. Mini-size clear hose is easy to handle and less noticeable in the bathroom.
Quality Made
Snap-on faucet adapter & diverter valve w/aerator are made of solid brass and chrome plated for years of use. Should you ever need any replacement parts they are conveniently available here.